Buckeye Appliance ~ Vintage Stoves!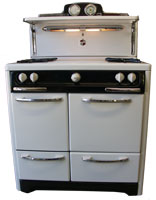 Buckeye Appliance has a wide range of refurbished antique stoves in the store.
They range in price from about $1,200 to $10,000, depending on the rarity of the stove and the amount of restoration involved. Most stoves are in the $1,200 - $3,500 price range.
All stoves are refurbished to like-new condition and guaranteed!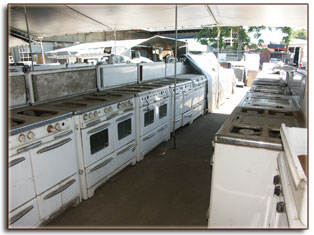 We have hundreds of stoves - finished and unfinished. These stoves will soon be refurbished, and added to the showroom.
---
#1103
This is a rare Wedgewood Stove from 1952! It features a glass oven door, oven light and chrome top.


Click on photos for a larger view.
#1094
This is a classic Wedgewood from the 1920's. It is a gas/wood combo stove, with an oven, broiler, and storage drawer.

See a sampling of the rest of the stoves in our showroom!

---
---
In addition to traditional vintage stoves, Buckeye Appliance also stocks unusual and unique stoves like this large, almond colored Wedgewood (
pictured below)
. This stove features 4 burners and a gas barbecue grill.
Click on pictures for larger view.
Stoves shown on this website are representative of what we have in stock. We may not have these exact items in stock. Please visit our showroom, or contact us to find out about our latest collection.
Note: We cannot give appraisal quotations over the telephone or via e-mail. In order to give you an accurate valuation of your stove, we need to see it . Quotes are available on-site for $75.00. Please call or e-mail for details.