Buckeye Appliance ~History
Buckeye Appliance was established in 1976, repairing and selling used appliances. We moved into antique appliance restoration in 1986, and it has become a labor of love.
Tom started as a Maytag washer repairman. True to their commercials, Maytag's never break down. Tom developed an interest in buying old appliances for repair and resale. He started a partnership with a fellow repairman who shared his interests and expertise. The Busy Brothers Appliance store dissolved and became Buckeye Appliance in 1976. Tom is from Ohio and a loyal supporter of the Ohio State Buckeyes.

Tom and his partner were busy repairing and reconditioning major appliances while his fascination with stoves was steadily increasing. The business and partnership might have stayed the same if not for the influence of his wife Darcy.
Darcy started collecting antiques as a teen. She started decorating from her inventory, and everyone started visiting the store to buy antiques as well as to find a vintage stove or refrigerator.

Recognizing the trend toward a wider inventory, Tom and Darcy started out visiting estate sales and other good sources in order to supply the store with dinette tables, china, kitchen cabinets, hoosiers, pie safes, baker's tables, old canisters and other age-appropriate kitchen collectibles. Known as the Queen of Chenilles, Darcy's linen inventory also includes highly prized chenille bedspreads.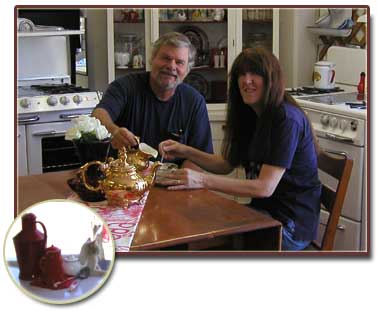 Tom and Darcy travel back to Ohio once a year to replenish their inventory. They find many kitchen items that are not easily found in this part of the country.